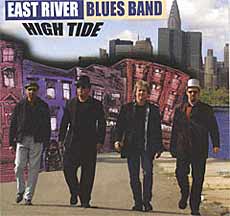 The East River Blues Bandıs new CD.
BY KARLENE HAMILTON
Music lovers, in particular lovers of the blues, are in for a treat from East River Blues Band's latest compact disc release, "High Tide."
High Tide is the band's second recorded release and is comprised of only original material.
The band describes its music as a blend of "mostly blues with a little swing."
"It's a working class New York kind of thing," said guitar player Ken Hughes. "Itıs blues with a New York edge and a New York theme."
Lead singer Dan Cumberland describes the band's genre as being "kind of like a good session of scratching and biting sex. "
From the first swingy track, "Closing Time," with its hilarious lyrics "When my baby goes drinking she don't stop till closing time" or "My first born son has the bartender's eyes and he gets his milk for free" to the playful vibe of "Lovin' Girl" with Tom Brumley's harmonica ripping up that track, right down to "Fiona's Shuffle," "High Tide" is slamming.
Blue Midnight, an instrumental piece, is a haunting and soulful melody and Brumley lets the harmonica talk again on this groove.
"Ken has done fantastic arrangement on these songs," Cumberland said. ³When someone who loves the blues hears the harmonica they knows it's authentic."
"East River Rats," the band's biographical song, tells of them growing up in the working class neighborhoods of Brooklyn and Queens.
The Latin flavor of "Hasta La Vista," with its wild rhythm featuring Bill Acosta on bass, with Congo drums echoing and Cumberland belting "I can't find my money baby/What's going on?/ In a west side hotel room/All my clothes are gone," is somewhat of a crossover that the band still manages to give a bluesy type of feel.
"Fiona's Shuffle," the only other instrumental piece, was inspired by Hughes' daughter.
"My daughter is 5, and three, four years ago, when I'd still walk around holding her trying to get her to fall asleep, my wife's childhood friend came over and said what I was doing was the feeling of shuffle. I had that melody; it seems sweet, like Fiona has a little melody. It captures her mood sometimes," Hughes said.
"It's a combination of lyrics by me and music by Ken," said Cumberland.
In the past, the band has covered music by Muddy Waters, Louis Jordan, Willie Dixon and John Bartholomew.
East River Blues Band plays mostly in Long Island, New Jersey and Manhattan, where the band held its CD release party.
"It was sponsored by the New York Jazz and Blues Society," said Hughes. We had about 100 people there. We played and kicked off our CD. We sold a bunch of CDs and tested the waters and the people really liked our original material. The acoustic stuff went over well. The important thing about this band is that we can show off things acoustically and electrically."
Cumberland and Hughes named 90.7 WFUV as their favorite radio station.
"They reach out to different types of listeners presenting different genres. They play old but also a lot of new," said Cumberland.
"I listen to that station for the music as well," added Hughes.
East River Blues Band has been together for about 10 years, according to Cumberland.
"Ken and I knew each other in high school so we go way back," he said. "I had a guitar and Dan had a drum. We used to sing harmonies back then and played for our local neighborhood and friends back then."
Hughes is a music teacher in Jackson Heights at PS 69, and Cumberland retired from the Department of Corrections last year.
Band members said they will arrange with the Jazz and Blues Society to organize a concert for the end of the summer.
"High Tide" can be purchased through cdbaby.com or www.eastriberbluesbad.com.
Contact the East River Blues Band for booking at (516) 482-1098.