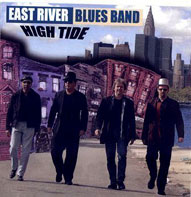 NEW YORK CITY - ERBB's hot new CD, High Tide, is not only gritty, gut wrenching, and powerful. It's also real. Very real. Real feel. Real rhythm. Real Pain. It's a collection of original songs that convey, in a very real way, the daily struggle that is New York City.
"Closing Time" kicks off the CD with a swinging shuffle about booze and babes. "East River Rats" is a biographical song about growing up in the tenements and how some get out but others don't.
Critics are already calling the up tempo jump tune "Running Home to Brooklyn" a classic. It's all about getting back to that pretty little thing after slogging it out on the other side of the East River.
But the song that takes it down, breaks it up, and leaves the listener gasping is "Bleeding". A grinding, dirty blues that only ERBB can pull off. The reason is quite simple: The East River Blues Band is tough. Rough and tumble tough. Most of the band grew up in some of the hardest sections of New York City. Not the places in the movies. No, they did their adolescent time in the working class neighborhoods of Astoria Queens, Greenpoint Brooklyn, and the Housing Projects of Long Island City. To escape that harsh reality, they discovered The Blues.
Now that grittiness and suffering comes through whenever the band hits the stage. From the softest soft to the growlingest growl to the grooviest groove, ERBB lays it down heavy and righteous. Audiences go crazy when they knock down the standards. Yet when ERBB plays an original tune, not only do they elevate the blues to new heights, the crowd stands up and cheers for more.
Fronting the Band is "Howling" Danny Cumberland. He grew up in Greenpoint section of Brooklyn and made his living as a cop. A New York City Correction Officer, who has experienced first hand the complexity of the human condition. This pain and suffering, profoundly affected "Howling" Dan and you can hear it in every note coming from his rich baritone voice.
"Howling" Danny's not just a battering ram of intensity, the boy has sex appeal. Just ask the women who swoon at the band's gigs. He's been called 'sultry', 'seductive', and 茎ensuous'. He sees the blues as a spiritual cleansing - an emotional release of love, happiness, pride, hurt, anger... and subsequent ecstasy. "It's kind of like a good session of scratching and biting sex," explains the gritty frontman.
The anchor of the band is Ken Hughes. The working class streets of Astoria helped form the core of this Blues Junky. His guitar playing crosses the wide ocean of history. He can lay down some country plucking and then fire up to Stevie Ray Vaughn. And the boy can sing. His voice is harsh and sweet. His solos innovative and gut wrenching. At one gig, Chicago blues great Hubert Sumlin sat-in and told Ken "man, you were burning me up". He even signed Ken's guitar.
Ripping the solos and purring some vocals is virtuoso harmonica man Tom Brumley. He's a penthouse pauper from the bohemian Brooklyn art scene. He plays every warm note on his licking stick with the soul of an artist and the mind of an urban scholar.
Bill Acosta could''t wait to escape the Projects of Long Island City. His bass playing is groove at its best. He's got feel that is real.
To get The East River Blues Band's New CD log on to their website eastriverbluesband.com/music.htm For bookings or interviews call Call 516 476 8717 or 718 321 7959 Or mail@eastriverbluesband.com
East River Blues Band At
The Waterfront Festival Pier 63, New York City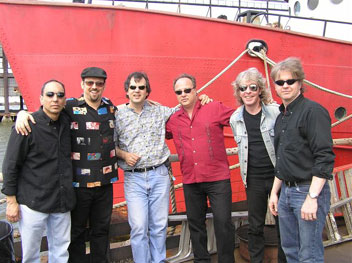 Saturday, May 21, 2005 The East River Blues Band laid down some steamy grooves on sunny Pier 63 last Saturday. The teeming fans swayed with joy to ERBB's fat & sassy originals. They sipped beer & wine in their beautiful boats and toured the seedy underbelly of the working waterfront. The old salts screamed with joy when the band launched into Candy man
while singing "Candy man...salty dog".Yes, folks. The dock was rocking so don't come a knocking.