The East River Blues Band features hypnotizing harmonica playing, howling whiskey ballads, and soul-filled Blues guitar in all of their keenly original songs. As for covers, whether it's Muddy Waters, Howlin' Wolf, Louis Jordan, Sonny Boy Williamson, Junior Wells, William Clarke, the Paul Butterfield Blues Band or Eric Clapton, they interpret the material with energy and respect because it is the music they love.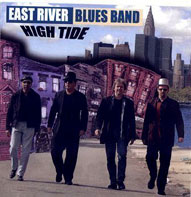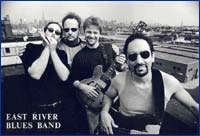 The East River Blues Band is tough.
Rough and tumble tough. Most of the band grew up in some of the hardest sections of New York
City. Not the places in the movies. No, they did their adolescent time in the working class neighborhoods of Astoria Queens, Greenpoint Brooklyn, and the Housing Projects of Long Island City. To escape that harsh reality,
they discovered the Blues. Now that grittiness and suffering, comes through whenever the band hits the stage. From the softest soft to the growlingest growl to the grooviest groove, ERBB lays it down heavy and righteous. Audiences go crazy when they knock down the standards. Yet when ERBB plays an original tune, not only do they elevate the blues to new heights, the crowd stands up and cheers for more.
Paul Tanner, a Jazz historian, wrote that in the development of Jazz, the Blues has been played in every era and has been performed with many interpretations. ERBB recognizes this fact. The band members all have a Jazz and Blues background and it shows. Their song list includes tunes by Miles Davis, Louis Jordan, Duke Ellington and Horace Silver. Check out their first CD. It features an original song entitled "Across Town",that has a killer swing beat, quarter note feel, and twelve bar minor blues progression that is influenced by the aforementioned Jazz artists.